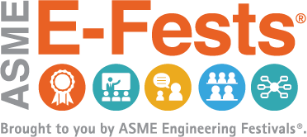 Media Advisory/Invitation to Cover
Saturday, April 25, 2020, 11 a.m. to 4 p.m. EDT

Half-day Event Features Online Student Leadership Training, Multiple Competitions via Video Submission, and Virtual Networking Opportunities for Engineering Students
WHAT:
As the coronavirus/COVID-19 pandemic has prompted the closure of college campuses and cancellation or postponement of many events, engineering students are finding productive ways to apply their education and skills as they shelter in place. Engineering faculty and professionals are collaborating with the American Society of Mechanical Engineers (ASME) to amplify this activity by hosting a FREE half-day virtual event for engineering students around the world. ASME Engineering Festivals® (E-Fests) presents E-Fest Digital .
Building on the success of ASME E-Fests® and ASME EFx®, the E-Fest Digital program will include an engaging new mix of sponsored content, design and presentation competitions, and skill-building sessions, plus awards and prizes designed to empower the diverse, multidisciplinary engineering workforce of tomorrow.
The virtual experience will include five reimagined competitions that give students a chance to apply their engineering education and demonstrate their abilities via video submission:
Human Powered Vehicle Challenge (HPVC) – Student teams from colleges and universities submit videos of their designs and prototypes of sustainable transportation alternatives.

Student Design Competition – Student teams design prototypes, typically involving robotics, and provide video presentations describing the design, production and re-design process of their device.

Innovative Additive Manufacturing 3D (IAM3D™) Challenge – The 2020 ASME IAM3D Unmanned Aerial Racing Cargo Vehicle (U.A.R.C.V.) competition tasks university students to use an iterative design process and additive manufacturing techniques to produce an U.A.R.C.V. that can navigate obstacles and deliver its payload. Teams submit a video design report.

Oral Competition (sponsored by the ASME Old Guard Committee) – This competition is designed to emphasize the value of delivering clear, concise and effective oral presentations, particularly pertaining to some sphere in which an engineer is involved. Student competitors create a 15-minute-maximum-length video of their technical presentation.

Elevator Pitch Competition (sponsored by the ASME Old Guard Committee) – Students are challenged to pitch a project, idea, product or themselves, demonstrating this essential tool for interviews and career development. Competitors create a 95-second video of their pitch, choosing from one of two challenge statements: the first on additive manufacturing; or a new challenge statement focusing on the coronavirus.
WHEN & WHERE:
Saturday, April 25, 11 a.m. to 4 p.m. EDT
on the ASME E-Fests® YouTube channel
WHO:
More than 750 students from 38 countries have registered for the virtual event. All engineering students are encouraged to participate in E-Fest Digital, including those individuals and teams who previously registered for the cancelled 2020 E-Fest North or E-Fest South events.
ASME Executive Director/CEO Tom Costabile will deliver opening remarks. He and other panelists also will lead a live interaction session on the engineering community's response to COVID-19, considering quality and safety issues from an industry perspective, and sustainable solutions for resource-limited regions in the world.
Other featured presenters include Laurie Burress, education innovation advisor for LinkedIn Learning and Jake Hirsch-Allen, North America workforce development and higher ed system lead for LinkedIn, who will lead a session on " Getting Hired During the Coronavirus Epidemic."
"During this COVID-19 crisis, LinkedIn Learning is focused on helping graduates feel prepared and helping them discover opportunities in the job market, despite a shocked economy," says Burress. "Graduates need to think short-term and get creative! What can I do today? Stay in the moment. Your next steps are a mix of your intelligence, connections, resourcefulness, and a willingness to explore job options that you may not have considered."
For the third consecutive year, Siemens is a platinum sponsor of the ASME E-Fest event series.
For more information and a list of all sponsors, visit efests.asme.org/sponsorship.
About ASME E-Fests®
ASME Engineering Festivals® (E-Fests) are regional events for engineering students that include design competitions, career development workshops, access to thought leaders and innovators in various engineering fields, and networking opportunities. E-Fests also extend beyond the in-person events and provide online content, resources and a community that enables students to foster innovation, network with key players in the industry, connect with peers and celebrate engineering!
About ASME
ASME helps the global engineering community develop solutions to real world challenges. Founded in 1880 as the American Society of Mechanical Engineers, ASME is a not-for-profit professional organization that enables collaboration, knowledge sharing and skill development across all engineering disciplines, while promoting the vital role of the engineer in society. ASME codes and standards, publications, conferences, continuing education and professional development programs provide a foundation for advancing technical knowledge and a safer world. www.asme.org
###
Media contact:
Monica Shovlin
MCShovlin Communications LLC (for ASME)
Email Contact
+1.541.554.3796
If you would rather not receive future communications from American Society of Mechanical Engineers, let us know by clicking
here.
American Society of Mechanical Engineers, 2 Park Ave, New York, NY 10016-5675 United States