A resounding success
Wessling, Germany, 28, June 2011 – The CAM company OPEN MIND continues on course for growth. The company from the 'Mensch und Maschine' Group (MuM) can look back on a positive 2010, which saw not only sales and employee numbers increase but also the company's global presence. Management has also identified bright prospects for continued success in 2011. The company recorded sales amounting to EUR 10.3 million in the first quarter of 2011, which represents an increase of 9.2 per cent on the same period last year.
According to the 'NC Software and Services Market Assessment Report' by CIMdata, OPEN MIND was the only leading CAM software company to continue to grow in the crisis year of 2009. The company's sales grew even further in 2010. Direct sales for 2010 were increased to EUR 27 million, which represents a growth of approximately 20 per cent relative to 2009. Its presence in regional markets was also further expanded. The company currently employs 180 people and now has 13 subsidiaries all over the world, including the newly founded branches in Sweden and Spain.
"The figures prove that we are on the right track," explains Volker Nesenhöner, CEO of OPEN MIND Technologies AG. "I am proud of our qualified and highly motivated employees. Together, we succeeded in inspiring users of NC machines in a wide variety of sectors to opt for our CAM software solutions thanks to our innovative technologies."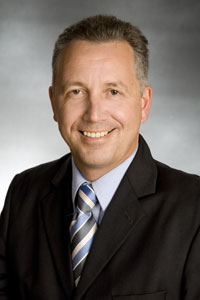 Volker Nesenhöner CEO
OPEN MIND Technologies AG
Volker Nesenhöner is the new CEO as of February 2011. Dr Josef Koch was appointed to the Executive Board as the Executive Director of Technology. Markus Pech will remain the CFO and will continue to represent the MuM Group. The Executive Board has named a direct sales target of EUR 30 million and believes the company is on track to meet this target, having generated EUR 10.3 million in the first quarter of 2011.

About OPEN MIND Technologies AG
OPEN MIND Technologies AG is a leading developer of CAD/CAM software and postprocessors for designing and manufacturing complex moulds and parts. OPEN MIND offers an extensive range of products from 2D feature-oriented solutions for milling standard parts through to software for 5axis simultaneous machining.
With their hyperMILL® software, which is used in the automotive, tool and mould manufacturing, mechanical engineering, medical and aerospace, and watch and jewellery industries, OPEN MIND Technologies AG is represented in all the important markets in Asia, Europe and North America.
OPEN MIND Technologies AG is a Mensch und Maschine company ( www.mum.de).
Additional information is available upon request or from our website at www.openmind-tech.com.
OPEN MIND Technologies USA, Inc.
214 Garden Street, Unit 2
Needham MA 02492
USA
Phone: +1 888 516 1232
Fax: +1 270 912 5822
E-mail: Email Contact
OPEN MIND Technologies UK Ltd.
Units 1 and 2
Bicester Business Centre
Telford Road
Bicester
Oxfordshire OX26 4LD
England
Phone: +44 1869 290 003
Fax: +44 1869 369 429
E-mail: Email Contact
Head office:
OPEN MIND Technologies AG, Argelsrieder Feld 5, 82234 Wessling, Germany
Phone: +49 8153 933500, Fax: +49 8153 933501
E-mail: info@openmind-tech.com, website: www.openmind-tech.com
Press contact:
HighTech communications GmbH
Brigitte Basilio
Grasserstrasse 1c
80339 Munich, Germany
Phone: +49 89 500778-20
Fax: +49 89 500778-78
E-mail: Email Contact
Website: www.htcm.de