Vevay, Indiana, February 15, 2006 - Draftware Inc announces today the release of
DraftView for CADDS 4.35
, for direct viewing of CADDS 4X and CADDS 5 designs. A significant new feature in this release is the "Save As DXF" option, which allows for the exporting of CADDS designs to other CAD systems.
DraftView is a low-cost view, print and markup tool that reads CADDS 4X and CADDS 5 designs directly, without requiring the CAD system. The software also supports viewing of DWG, DXF, CGM, HPGL, JPEG and other formats, and the ability to Save As DXF, DWF, TIFF and JPEG. DraftView is the only direct CADDS viewer that supports all Draw, Model and Detail Mode entities, as well as all Dimension entities and text fonts, including Kanji.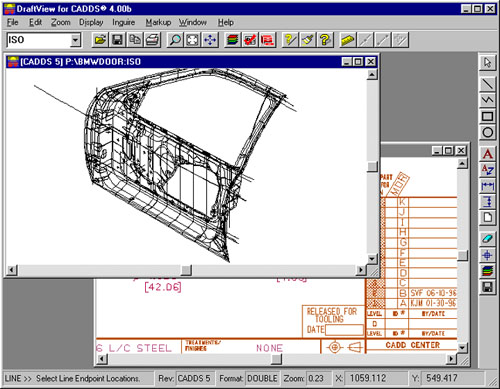 File Formats Supported for Viewing & Printing:
CADDS Explicit & Parametric (CADDS 3 Rev 8, all CADDS 4X through current CADDS 5i)
CGM & CALS Files (*.cgm *.cal, *.cg4, .gp4, *.mil)
AutoCAD DWG (all formats up to 2002)
AutoCAD DXF (*.dxf)
AutoCAD Slide Files (*.sld)
HPGL & HPGL/2 Files (*.plt, *.hp)
JPEG, JPG (*.jpg)
PCX Picture Files (*.pcx)
GIF Image Files (*.gif)
TIFF Image Files (*.tif)
Windows Bitmap (*.bmp)
Windows Metafile (*.wmf, *.emf)
Supported File Formats for Exporting:
DXF *(available in DraftView Unlimited Edition)
DWG & DXF into DWF
JPEG
TIFF (screen capture)
Windows BMP
Windows Metafiles
HPGL & HPGL/2 (via Windows Printer Drivers)
PDF (via Adobe® Printer Drivers)
Availability
About Draftware Inc.
With the advent of AutoCAD viewing utilities in the mid-1980s, Draftware Inc recognized the need for similar products for Computervision CAD users. Founded in 1988, Draftware Inc began offering Computervision CAD viewers with the release of
DraftView for Personal Designer
in 1989, followed by the release of
DraftView for CADDS
in 1991. Draftware Inc continues to specialize in viewing solutions for users of legacy Computervision CAD systems. The DraftView products are now widely used by large and small companies, worldwide, in over 30 countries.
--------