Tuesday, November 18th, The National Composite Center, Bristol, UK
Siemens PLM Software cordially invites you to join us for an informative and educational day covering the high performance composite development process.
This seminar will provide an excellent opportunity to highlight competences needed in the design, analysis and manufacturing process simulation of composite materials and how to meet the economic challenges of bringing to market 'lighter' and 'safer' products.
This free seminar can help you answer questions like:
How to build powerful processes for global and local simulation and optimization
How to assure a well understanding of design margin based on tested and model validated material properties
How to meet the real world needs of development teams by providing them a comprehensive support for ply, laminate, component, and assembly level simulations
How to predict robustness and help decrease weight thanks to damage tolerance models
How to guaranty cost and production quality improving manufacturability design
Agenda
08:30 AM
Registration & continental Breakfast
09:00 AM
Keynote speech, National Composite Center
09:45 AM
Introduction to the Siemens PLM end-to-end solution for composites
10:30 AM
Break
10:45 AM
Composites design and manufacturing
12:15 AM
Lunch
01:15 PM
Composites analysis challenges and overview of the solutions
01:45 PM
Advanced analysis of composites 1: progressive damage analysis
03:00 PM
Break
03:15 PM
Advanced analysis of composites 2: optimization and manufacturing simulation
04:15 PM
Conclusions, National Composite Center
04:30 PM
Wrap up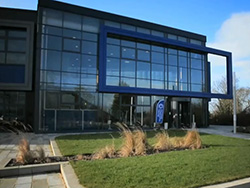 Register now for this seminar!
Seminar details
Date:
Tuesday, November 18, 2014
Time:
8:30 a.m. - 4:45 p.m.
Location:
The National Composites Center
Feynman Way Central, Bristol & Bath Science Park, Emersons Green,
BS16 7FS, Bristol, United Kingdom